Family Homeopathy Journal

A beautiful and vital system to keep your family's homeopathic medical records!
When using homeopathic medicines, one of the greatest gifts you can give your family is high-quality homeopathy care. To achieve that, keeping track of remedies taken, important life events, symptoms, and your health timeline is key. 
In less than 3 minutes, watch the overview!
Endorsed by the Academy of Homeopathy Education
Created by the president and CO-founder of Americans for Homeopathy Choice
Brought to you in Part by Washington Homeopathic Products
How does the journal work?
This journal helps you organize important observations for acute and chronic illnesses for up to eight family members (including pets!). This note-taking system empowers you to keep valuable notes whenever you take your own case. It also enables you to communicate clearly with a homeopath at appointments as you refer to your symptoms. Over time, this journal will become a valuable health record of your family's homeopathic care. But, this journal isn't just for keeping symptom-related records. The A-Z index of over 50 pages allows you to take notes on homeopathy information like remedies and keynotes. It also includes several practical and pragmatic sections like the book list bookshelf, remedies you need to order, and more. Finally, this journal uses beautiful homeopathy-inspired illustrations that were commissioned especially for this project; these are meant to be used as a calming and meditative adult coloring book experience.
Get a detailed overview of several sections of this 202 Page Journal!
How it works: You will assign one section to each of your family members. Each section begins with a title page, where you can write your name or your family member's name. You should also note that family member's name in the Table of Contents. If you run out of space for one family member, you can continue their section in a new, blank homeopathy record area.
It's also an adult coloring book! If you were ever to sit next to Paola in a class or a meeting, you would see that she's a doodler. It's relaxing and helps her concentrate. Whenever she goes on family trips, she packs her watercolor kit. With this artistic inspiration in mind, Paola developed The Family Homeopathy Journal. With the help of some amazing designers and artists, you can fill this book up with useful and meaningful information while also nurturing your inner artist. The pages of this journal are filled with drawings and sketches from homeopathy-inspired themes. When you have some free time on your hands (or when you're stuck in a meeting or mulling over a homeopathy case), bring your journal with you and make it beautiful, just as homeopathy is making your body beautiful and healthy.
Timeline: Once you've assigned your family members each a section, begin by writing out their timelines, one person at a time. A timeline is a record of important events in a person's life. For this timeline, you should include life events such as childbirth, adoption, marriage, divorce, loss of a loved one, and significant moves, as well as important health events such as injuries, illnesses, surgeries, medications taken (and for how long), hospitalizations, etc. Doing this helps you to map out the journey that you or your loved one has taken up to this point in his or her life.  All of this information is an invaluable map to help you find the path to wholeness.
Using the stickers: You are provided with 'Ailment Stickers,' which should be used to begin a new entry on the Ailment page. I hate notebooks that give you a preselected amount of space for each entry. I always end up having longer entries that are crammed with notes and other entries that are shorter and end up having a lot of extra white space. With these stickers, you can just place one on your ailment page directly beneath your last entry.
Homeopathy Lists: There are several pieces to this section, and here are a couple to give you an idea! 
Refills: Paola has made an effort to reprint the sizes of bottles and pellets. These are approximates because—obviously—different manufacturers will have remedy bottles that vary in shape and size, but it does give you an idea. 
Reading List: In this section, you will find pages of illustrated bookshelves that are filled with blank books. Here you can write in the names of books you own or have read, as well as books you wish to own or would like to read. Write the names of all of these homeopathy books on the blank bookshelf books. Once you've purchased (or read) a book, you can color that book in. The ones that are still on your wish list remain white. 
Materia Medica, Repertory, & Other Notes (A-Z): This alphabetized area, filled with blank lines,  help you organize your notes about various remedies, ailments, and other homeopathy-related topics. For example, if you recently learned that Aconite is the Arnica of the eye and is useful in eye injuries, you may create an entry under A that reads: A – Aconite, the Arnica of the eye (good for eye injuries). Similarly, you may go to the E section and write the following: E – Eye injury, see Aconite, p. 73 . For a head start, we've prefilled the memory work that is used in the Teach Me Health and Homeopathy curriculum and in the Book Club class plus several other remedies!
What people are saying about Paola's work:
"If you are in love with herbs, essential oils, or other forms of natural health, you're going to relate strongly to this curriculum. You'll see references to all those things you already love, but you and your children will also be introduced to the brilliant field of homeopathy, and they'll also learn how to think through what they believe about "conventional" vs. "natural" paradigms of health."
"Wish we were starting school tomorrow. We have been using remedies for years but it's so hard to explain the methods in a way children can comprehend. You have done exactly that and with so much depth and beauty. Thank you for your hard work!"
"This is the health curriculum I've always wanted for my kids. Whether you homeschool or not, this gives a comprehensive guide to natural health and critical thinking. Paola Brown Homeopathy you have outdone yourself!"
"Paola Brown I stayed up waaaay too late reading Evie and the Secret of Small Things. It's wonderful! I love that you wove so much information into your story as it unfolded. 😍 Thank you for making it real🙌🏻."
"We were SO excited when this arrived this week! My reader was totally sucked into the story book and couldn't put it down! After just a short time, she was already 1/2 way through the book!! LVery well done Paola Brown! 💜💜 thank you!!"
"I am not even sure if you check this but when we received the curriculum and I started looking through it, I seriously almost cried. What you have done gives me the opportunity to teach my girls a bigger wider world than what is commonly known. I can show them a form of independence that so many lack. Thank you Paola! I wish we were neighbors, I know we would be friends!"
"The current paradigm of constantly looking for what is wrong and managing symptoms is not working. It leads to dissatisfaction and mistrust with their bodies, which causes dissociation and feeling like their body has betrayed them. What would it be like if a child grew up deeply connected and aware of what is happening in his or her body, and had the tools and knowledge to respond appropriately?"
When I began developing The Family Homeopathy Journal, I realized I could combine my love of art and color with my fascination for bullet journaling. That's what this journal became. With the help of some amazing designers and artists, you can fill this book up with useful and meaningful information while also nurturing your inner artist. The pages of this journal are filled with drawings and sketches from homeopathy-inspired themes. When you have some free time on your hands (or when you're stuck in a meeting or mulling over a homeopathy case), bring your journal with you and make it beautiful, just as homeopathy is making your body beautiful and healthy.
Not ready to buy? Download a sample!
While it is sold separately, this journal is part of Paola's Book Club Program for adults. Together with some samples from this whole program, you can download the index and a sample page from The Family Homeopathy Journal by clicking below.
About the Author, Paola Brown
Paola Brown is a wife, homesteading mama of three, and experienced educator whose homeopathy workshops, classes, and interactive online courses empower other moms and families to incorporate homeopathic principles into their lives. As president and founder of Americans for Homeopathy Choice, Paola advocates for the growing number of mothers and other homeopathy users who want to protect their right to choose homeopathy. Paola Brown wrote every word of the curriculum herself. Paola has earned an MA in Curriculum and Instruction from Arizona State University, graduating summa cum laude, before spending more than a decade teaching English at the high school. Paola and her team has spent the past 3 years pouring their hearts into filling the need for quality homeopathic education for kids.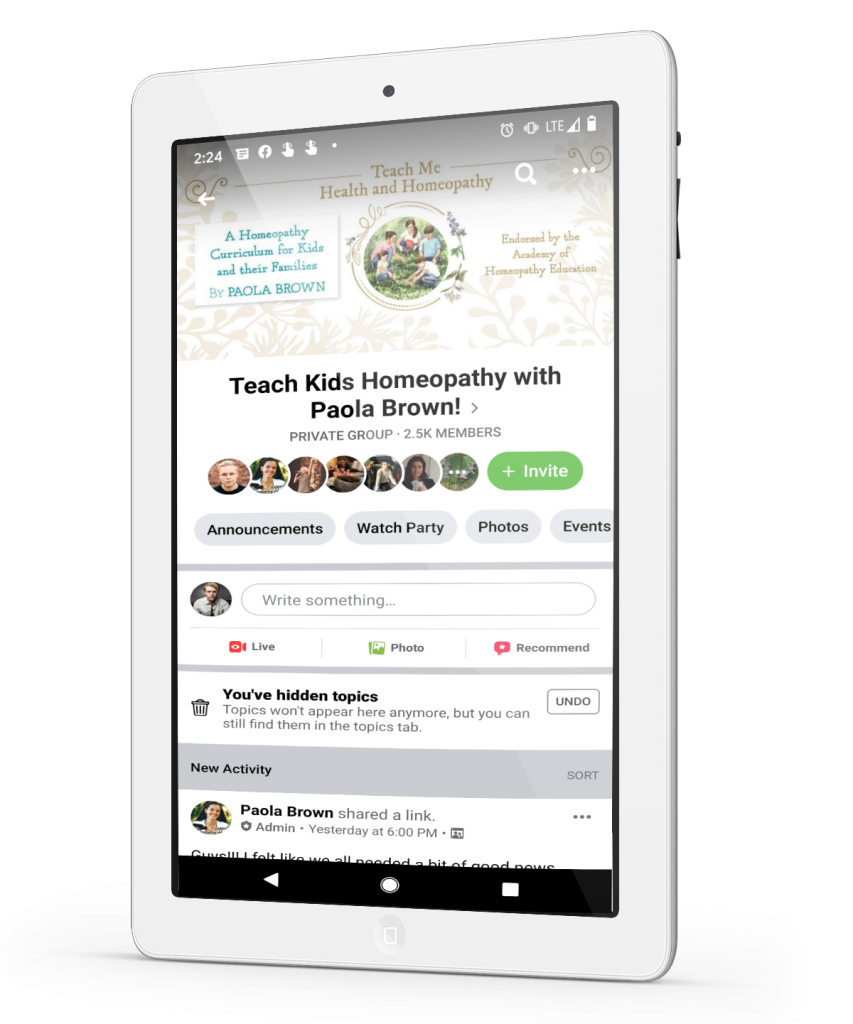 Join the Free Group to Get the Most Out of the Curriculum
We've created a special group to share homeopathy knowledge and encourage each other through teaching our kids about the power of homeopathy. Learning is best with community!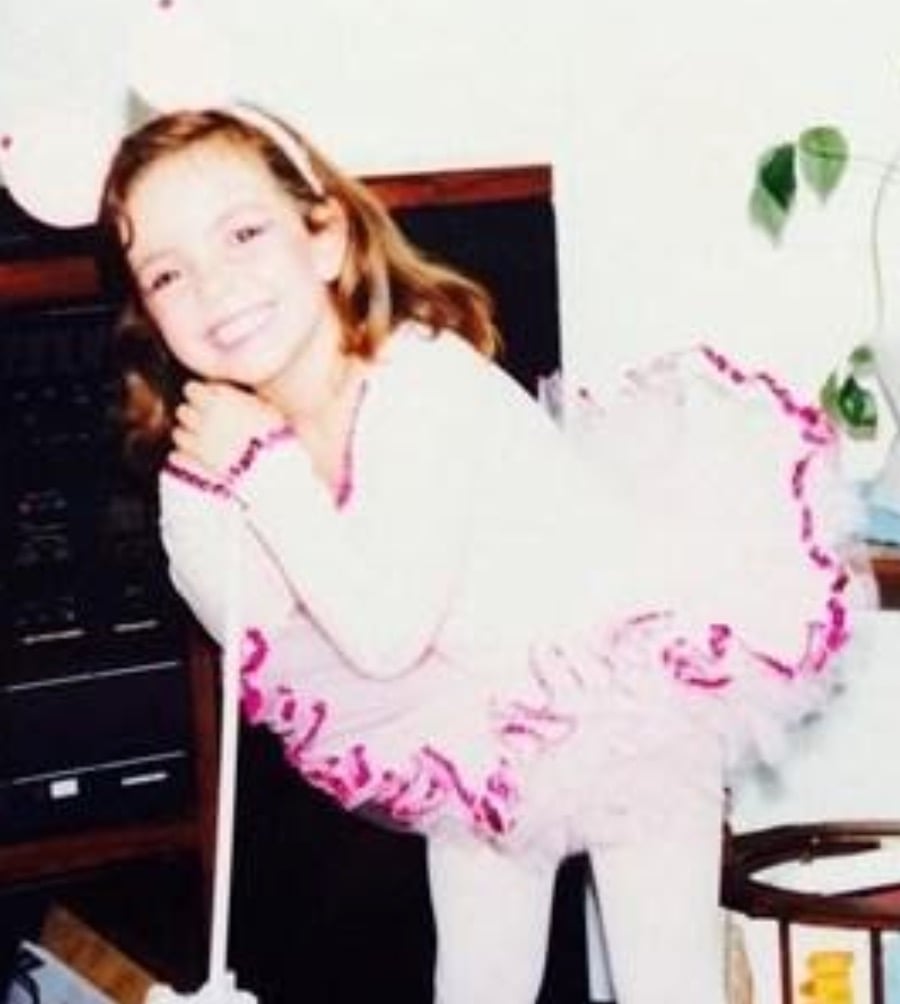 The time has come! Teaching your children homeopathy — and passing this knowledge on for generations to come — is at your fingertips! You've heard it before: If you don't have your health, you don't have anything. Many of us have learned this the hard way—myself included. When I was a little girl aged 3, I immigrated with my family to the United States so my father could attend university. My mother knew that we could not afford health insurance, so she brought with her a little homeopathy kit and a booklet. She knew very little about homeopathy, but that was how she raised us, consulting her book and using the remedies to heal our ailments. But unfortunately, she didn't realize the gift of health that she was giving us. When my father graduated and got a secure job that provided for our needs—when they achieved the "American dream"—my mother was so elated to have health insurance and "real" healthcare that she threw out her homeopathy kit! She didn't realize what she had.
Similarly, my father grew up in Brazil being treated by a homeopathic physician. He remembers clearly being prescribed Phosphorous and other homeopathic medicines as a child. Despite both my parents' positive experiences with homeopathy, the knowledge was lost. And later on in life, I unfortunately suffered greatly because of it. As a young adult, I took many antibiotics for my urinary tract infections, and my health declined significantly. I suffered from autoimmune diseases and faced a life of debilitating illness and an ever-growing list of dangerous medications like opioids and more. The thread of knowledge about true health and wellness had been broken from one generation to the next. Then I rediscovered homeopathy. With it, I reclaimed my health, and the rest has been history.
Before I began our fight to defend homeopathy, alongside other amazing women at Americans for Homeopathy Choice, I was already working on this curriculum. In a flash, I knew what I—and so many other mothers, parents and caregivers—needed. And it's only because our advocacy work to defend homeopathy has been (and continues to be) so important and so all-consuming that it has taken me until now, working double-time, to finally bring this to you. I couldn't be happier. My parents — who are back to using homeopathy and live completely drug-free — love it. I know you will love it too. This curriculum is of the highest quality. It is my opus.
To develop this curriculum, I meticulously researched a collection of over forty-five different books, scientific journals, and resources. Teach Me Health & Homeopathy is unique because it is the FIRST literature-based homeopathy curriculum designed for students of multiple ages. It includes a book of stories (with an audiobook option), a teacher's manual, a student workbook (leveled for three age groups), beautiful illustrations, recorded supplemental videos available online, digital remedy flashcards and games for memory work, a digital vocabulary and reading guide for 8th grade students and older, and even an optional collection of songs to help children memorize important homeopathy facts. The unique material will enchant the whole family and make learning fun and accessible. It is my greatest hope that this curriculum will help you and your family find rich learning and generations of health.
Order Paola's Family Homeopathy Journal Now!
Now, you can take Paola's wonderful teaching style and help your friends learn about homeopathy!