Evie and the Secret of Small Things
Brings together the power of story with the power of homeopathy.
Stories are a very underused but powerful teacher. Why? Because it's like a holistic remedy and meets the listener where they're at. And done right, a good story will propel you and your entire family to really internalize the concepts of health and homeopathy. My book, Evie and the Secret of Small Things is the storybook that accompanies the world's first homeopathy curriculum for kids – Teach Me Health And Homeopathy, and it brings together the power of story with the power of homeopathy.
$32- Audiobook Digital Streaming
Endorsed by the Academy of Homeopathy Education
Created by the president and CO-founder of Americans for Homeopathy Choice
Brought to you in Part by Washington Homeopathic Products
Evie Brown and her giant family of twenty-eight aunts and uncles and oodles of cousins are excited about the grand family reunion and Christmas holidays, but everything is brought to a halt when they all come down with a nasty stomach bug and fever … the Brown Plague, they grimly joke. But to Evie, one person stands out from the crowd: Grandma Annette. Grandma recovers sooner than anyone else and has some clever healing secrets tucked away in her purse, and Evie wants to know more about these secrets, especially homeopathy. Evie—intensely curious, full of questions, and eager to learn—shadows her grandmother who does her best to teach Evie and her grandchildren all she knows. She tells them about the bitter feud between Antoine Bechamp and Louis Pasteur, and she introduces them to Dr. Samuel Hahnemann, the father of homeopathic medicine. But when Grandma's visit comes to an end, Evie is disappointed. Who would teach her about all the different homeopathic remedies? As winter melts away and brings budding flowers and chirping birds, it also brings a special visitor who reveals the seeds of truth about nineteen different homeopathic remedies.
I know you're here because you just want to learn about homeopathy, but the problem is you're so busy that it's hard for any busy person to remember all the details of what they've learned. If you're stressed with a challenging situation, then you really won't be able to easily recall the details you need. I get it! I have been in situations where I've had a sick kid, and I was STRESSED. I couldn't think straight, I was near tears, and my ears were literally ringing. But then, in the middle of the madness, I remembered something. It was a simple story I had told others when I taught a little Intro to Homeopathy class. And remembering this little story really propelled me to figure out what to do next. Stories are a very underused but powerful teacher. Why? Because it's like a holistic remedy and meets the listener where they're at. And done right, a good story will propel you and your entire family to really internalize the concepts of health and homeopathy.
Not ready to buy? Download a sample!
While it is sold separately, this storybook is part of Paola's main Teach Me Health & Homeopathy curriculum for Grades 1-12. Together with some samples from this whole program, you can download an entire chapter of the Evie book!
About the Author, Paola Brown
Paola Brown is a wife, homesteading mama of three, and experienced educator whose homeopathy workshops, classes, and interactive online courses empower other moms and families to incorporate homeopathic principles into their lives. As president and founder of Americans for Homeopathy Choice, Paola advocates for the growing number of mothers and other homeopathy users who want to protect their right to choose homeopathy. Paola Brown wrote every word of the curriculum herself. Paola has earned an MA in Curriculum and Instruction from Arizona State University, graduating summa cum laude, before spending more than a decade teaching English at the high school. Paola and her team has spent the past 3 years pouring their hearts into filling the need for quality homeopathic education for kids.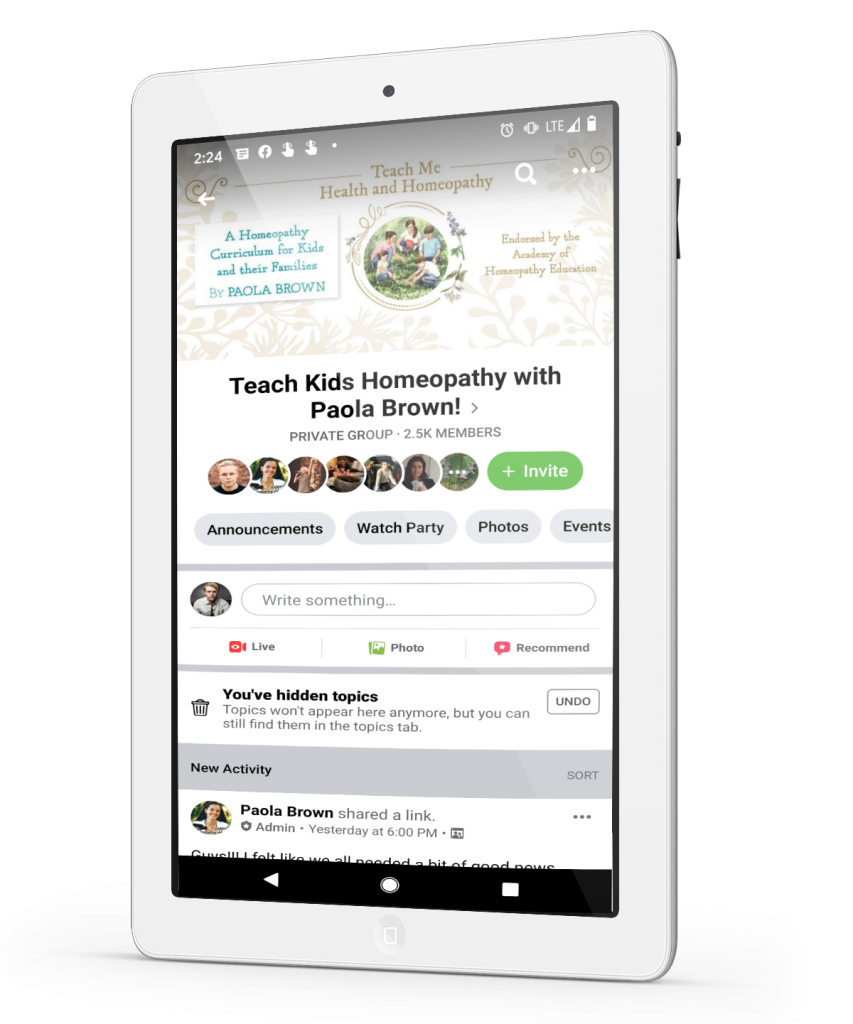 Join the Free Group to Get the Most Out of the Curriculum
We've created a special group to share homeopathy knowledge and encourage each other through teaching our kids about the power of homeopathy. Learning is best with community!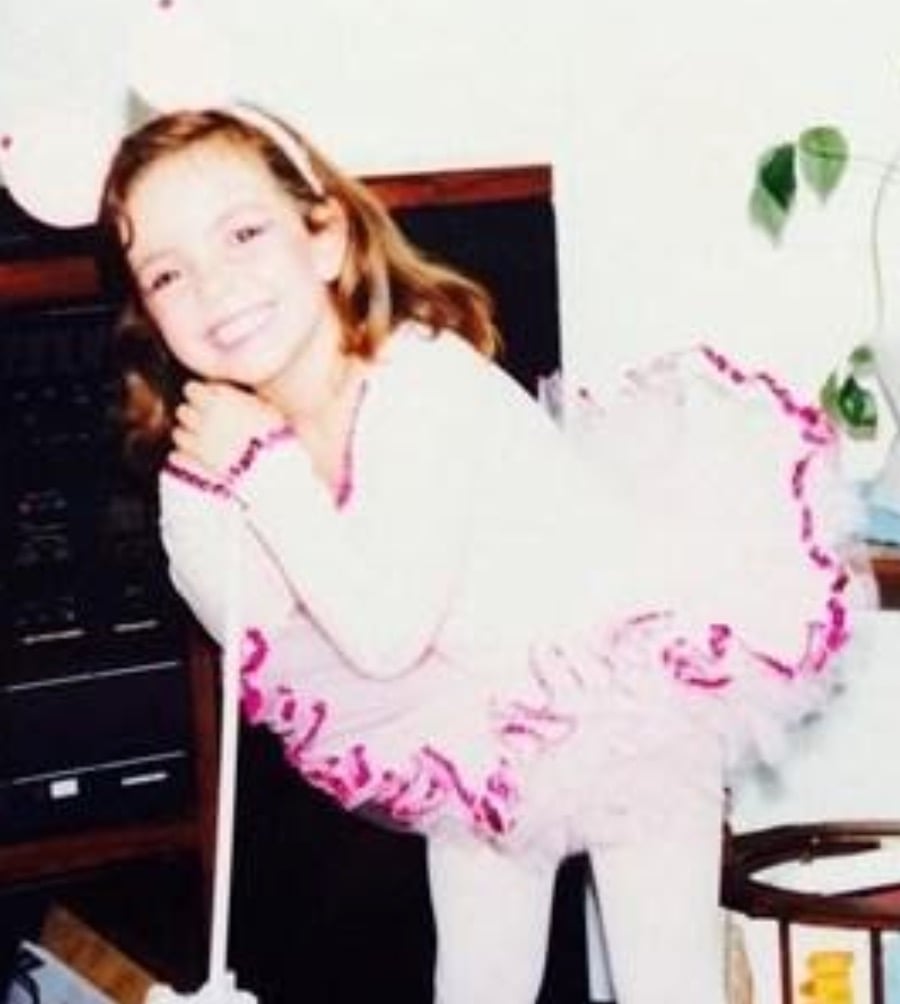 The time has come! Teaching your children homeopathy — and passing this knowledge on for generations to come — is at your fingertips! You've heard it before: If you don't have your health, you don't have anything. Many of us have learned this the hard way—myself included. When I was a little girl aged 3, I immigrated with my family to the United States so my father could attend university. My mother knew that we could not afford health insurance, so she brought with her a little homeopathy kit and a booklet. She knew very little about homeopathy, but that was how she raised us, consulting her book and using the remedies to heal our ailments. But unfortunately, she didn't realize the gift of health that she was giving us. When my father graduated and got a secure job that provided for our needs—when they achieved the "American dream"—my mother was so elated to have health insurance and "real" healthcare that she threw out her homeopathy kit! She didn't realize what she had.
Similarly, my father grew up in Brazil being treated by a homeopathic physician. He remembers clearly being prescribed Phosphorous and other homeopathic medicines as a child. Despite both my parents' positive experiences with homeopathy, the knowledge was lost. And later on in life, I unfortunately suffered greatly because of it. As a young adult, I took many antibiotics for my urinary tract infections, and my health declined significantly. I suffered from autoimmune diseases and faced a life of debilitating illness and an ever-growing list of dangerous medications like opioids and more. The thread of knowledge about true health and wellness had been broken from one generation to the next. Then I rediscovered homeopathy. With it, I reclaimed my health, and the rest has been history.
Before I began our fight to defend homeopathy, alongside other amazing women at Americans for Homeopathy Choice, I was already working on this curriculum. In a flash, I knew what I—and so many other mothers, parents and caregivers—needed. And it's only because our advocacy work to defend homeopathy has been (and continues to be) so important and so all-consuming that it has taken me until now, working double-time, to finally bring this to you. I couldn't be happier. My parents — who are back to using homeopathy and live completely drug-free — love it. I know you will love it too. This curriculum is of the highest quality. It is my opus.
To develop this curriculum, I meticulously researched a collection of over forty-five different books, scientific journals, and resources. Teach Me Health & Homeopathy is unique because it is the FIRST literature-based homeopathy curriculum designed for students of multiple ages. It includes a book of stories (with an audiobook option), a teacher's manual, a student workbook (leveled for three age groups), beautiful illustrations, recorded supplemental videos available online, digital remedy flashcards and games for memory work, a digital vocabulary and reading guide for 8th grade students and older, and even an optional collection of songs to help children memorize important homeopathy facts. The unique material will enchant the whole family and make learning fun and accessible. It is my greatest hope that this curriculum will help you and your family find rich learning and generations of health.